Universal Precision Products was established by Orville A. Wait in Beaverton, Oregon in 1968. Due to its growth in sales the business was moved in 1974 to its present location in Hillsboro, Oregon to allow for continued expansion. Our expertise in both the CNC and cam type Swiss screw machines is second to none. We take pride in providing quality products and services to each and every one of our clients.
We manufacture precision-machined parts for electronic, medical, dental and irrigation industries to name a few. Our experienced staff of dedicated professionals stands ready to help you handle the challenging projects your company needs. We manufacture high quality precision parts from .020" to 1.25" in diameter.
Give us a call today and you'll see what Universal Precision Products is the right choice of suppliers for your business.
Management Organization and Responsibility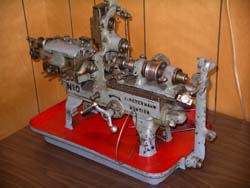 Antique Swiss Automatic
Universal Precision Products' Management Team is comprised of the CEO, President, Vice-President, Quality Manager, Production Manager, and Office Manager.

The CEO is ultimately responsible for overseeing the operation of the company, and to approve or reject recommendations from the rest of the Management Team. The CEO is currently retired and has delegated authority for the day to day operations to the President.